***Styrofoam Recycling drive will be hosted by McHenry County Defenders Saturday, March 11, 2017 from 9a.m.-Noon at McHenry Train Depot***
The link to the most recent 2016 Green Guide can be found here:  http://www.mchenry.edu/green/greenguide.pdf
As you have probably noticed, the new guide is much smaller and focused on the most common areas of concern. However, we still have a more comprehensive guide, Recycling from A to Z, located here
http://www.mchenry.edu/green/recyclingAtoZ.pdf
Items NOT accepted: TVs, Monitors, Batteries, Styrofoam
Nunda Township Recycling Service:
NO Commercial Contractor Dumping of Any Kind, Any Time, Under Any Circumstances ACCEPTED
Paint Recycling Closed October 31st to April 1st; if you still have paint to recycle, Ace Hardware in McHenry and Crystal Lake will take Latex paint for a small fee.
Car and truck batteries are accepted. Alkaline non-rechargeable batteries can be thrown away.  All other batteries can be brought to Batteries Plus for recycling, some fees may apply. Please click the following link for additional battery recycling information. https://www.batteriesplus.com/t/recycling/battery
We take in recyclables, 24 hours a day 365 days a year.  Please put all items into containers where applicable.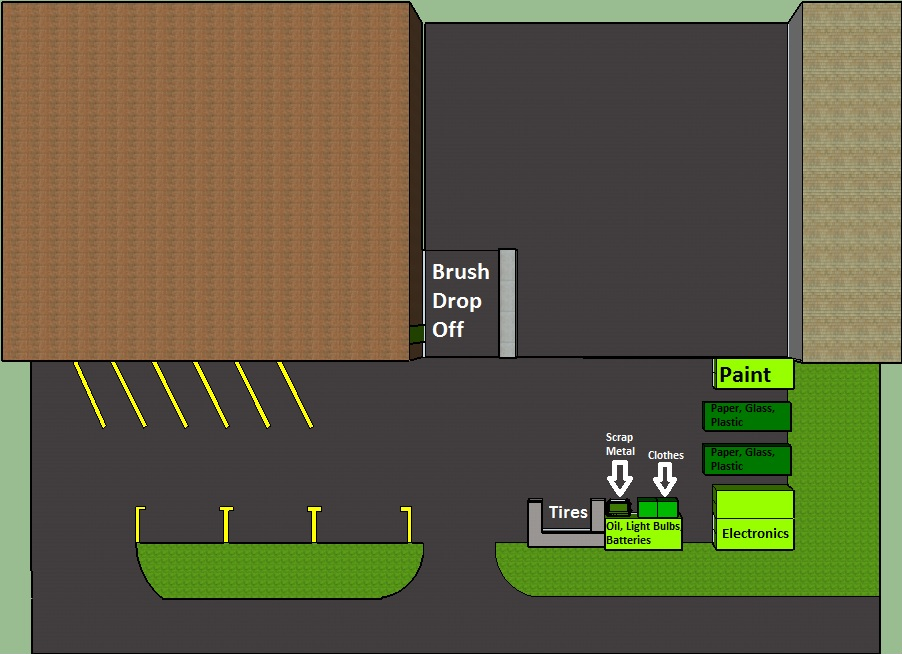 Recycled Items
• Cans – Aluminum and Metal
• Glass Bottles and Jars
• Plastic Bottles and Jugs
• Newspaper, Cardboard, and Magazines
• Landscape, Brush, Sticks and Branches
• Scrap Steel
• Paint – Latex and Oil Base – April 1st to October 31st
• Electronics (no T.V.'s or Monitors)
• Light Bulbs
• Waste Oils
• Tires ON SATURDAYS ONLY 7AM-12PM
Clothes
Nunda Township Residents can bring in their brush, sticks, and branch debris for no charge.
Paint Recycling:
Please drop off your unwanted paint during business hours – April 1st to October 31st.
Oil Recycling:
Nunda Township Road District accepts used motor oil for recycling all year around during regular business hours.
Only waste oil will be accepted, no anti-freeze or other chemicals are allowed.
The waste motor oil is used in a waste oil heater to heat the Road District garages.
This helps cut down on heating costs and puts the waste oil to a good use.
Please contact the Road District office with any question that you may have.